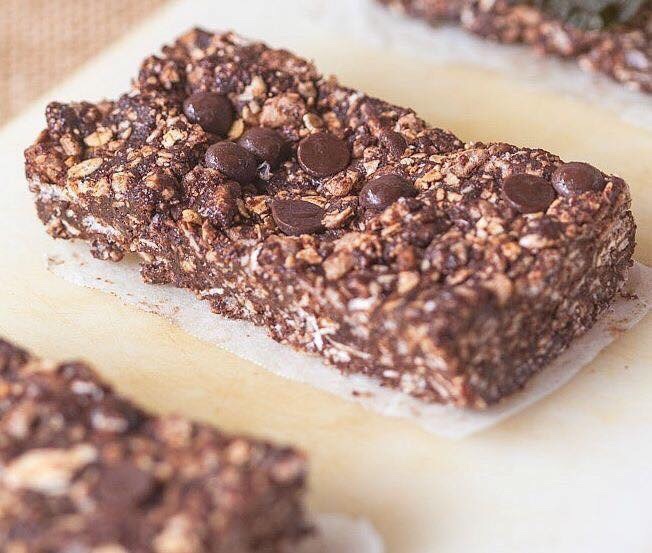 Ingredients:
1 1/2 cups gluten free rolled oats
1/4 cup gluten free oat bran (can sub for more oats)
2 cups gluten free crispy rice cereal (I used a cocoa flavoured one)
1/4 cup cocoa/cacao powder
1 scoop chocolate mint protein powder (or use chocolate and add 1 tsp peppermint extract ? )
1/4 cup stevia
1/2 cup almond butter
1/2 cup + 1 T brown rice syrup or substitute honey
1 tsp peppermint extract***
almond milk*
1 cup cacao nibs
Instructions:
In a large mixing bowl, combine the rolled oats, oat bran, cocoa powder, protein powder, crispy rice cereal and sweetener of choice.
In a microwave safe bowl, combine the nut butter of choice with the brown rice syrup and heat until the mixture is melted completely.
Add the liquid mixture to the dry mixture and add the peppermint extract if using and stir until combined.
Allow to cool slightly and stir through half the chocolate chips and mix very well. If mixture is not 'batter like', slowly add dairy free milk very slowly until one is formed.
Line a 9 x 9 inch baking dish with baking paper. Pour the mixture into the pan and press firmly with your hands evenly.
Add the remaining 1/2 cup of chocolate chips and refrigerate for at least 4 hours, or overnight. Remove from the pan and cut into 8-10 bars.