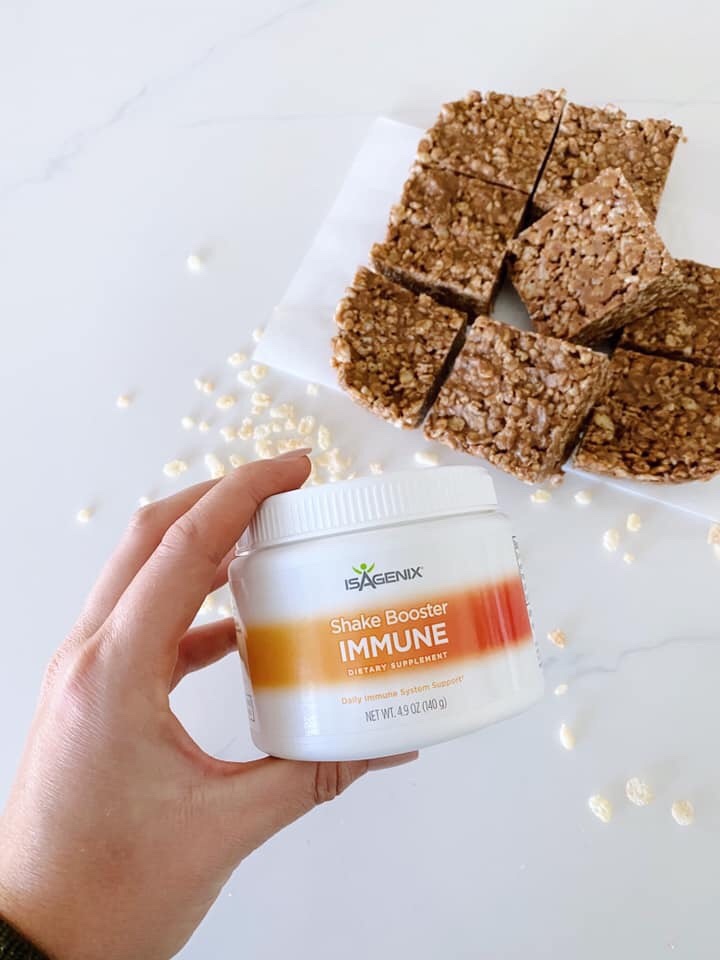 Are you looking for another way to get some Immune Shake Booster into your family's lives? These chocolate crispy bars are the perfect treat to share with the whole family! Packed with food-based ingredients to prime and strengthen your immune system like beta-glucans (WellMune), Maitake, Reishi, and Poria mushrooms ?
Plus the goodness of Plant-Based IsaPro for a little added nourishment ?
Ingredients:
1/2 cup honey
1/2 cup nut butter (I used peanut butter)
2 scoops Chocolate Plant-Based IsaPro
5 scoops Immune Shake Booster
4 cups puffed rice cereal
Directions:
Heat honey in a large saucepan over medium heat for a minute or two until thin and runny.
Remove from heat.
Add nut butter and stir until completely mixed in.
Add Plant-Based IsaPro and Immune Shake Booster. Stir until completely mixed in.
Add cereal and mix using a wooden spoon.
Pour into an 8×8 baking dish and flatten with your hands. To make the removal process easier line the baking dish with parchment paper.
Refrigerate for 2 hours. Cut and enjoy!
This recipe makes 9 snack bars providing 190 calories each, 8 g plant-based protein, 30 g carbs, and 8 g fat!
Each bar provides half a scoop of Immune Shake Booster ??
A tasty snack to share with the whole family!