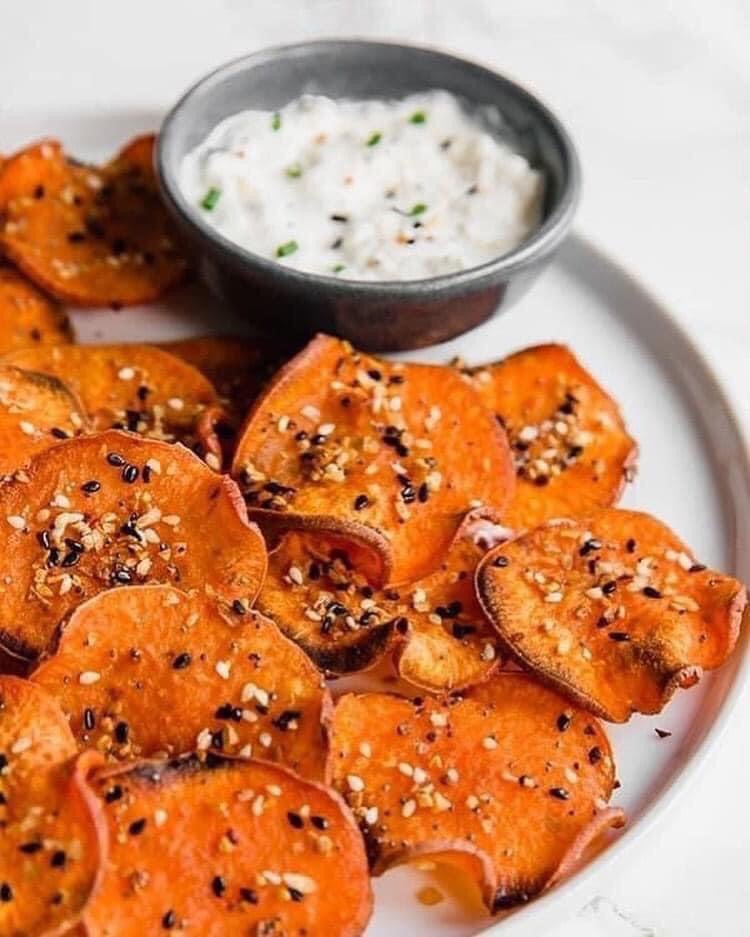 ? I love sweet potatoes and these are to die for!!
SWEET POTATO BAGEL CHIPS WITH EVERYTHING BAGEL SEASONING
INGREDIENTS
Sweet potato bagel chips
1 lb sweet potato
4 tbsp avocado oil
3 tbsp everything bagel seasoning (see below for AIP option)
Dairy-free or Greek yogurt dip (optional) (sub Cream Cheese for a shortcut if tolerated)
1/4 cup coconut cream
1 tbsp avocado oil
1 tsp apple cider vinegar
1/4 tsp sea salt
AIP everything bagel seasoning blend (AIP option) I USED TRADER JOES
2 tbsp dried onion flakes
2 tbsp dried garlic granules
2 tsp dried chives
1 tsp sea salt
INSTRUCTIONS
For the sweet potato bagel chips
Preheat the oven to 400 F and line two baking sheets with parchment paper.
Wash the sweet potatoes well and scrub the skin to remove any impurities.
Using a mandoline slicer, carefully slice the sweet potatoes on a 1/8″ setting.
Lay out the sweet potato chips on the baking sheets and evenly spaced. Coat each side with 2 tbsp of avocado oil. Top one side of the chips with 1 1/2 tbsp of the everything bagel seasoning.
Bake in the preheated oven for 10 minutes. Remove from the oven and carefully flip with tongs. Add the remainder of the bagel seasoning to the other side of the chips.
Place in preheated oven and bake for another 10 minutes, or until crisped to liking. Watch the chips carefully to avoid burning as exact oven temperatres can vary.
Combine all of the ingredients and stir until well combined. Season further to taste.?