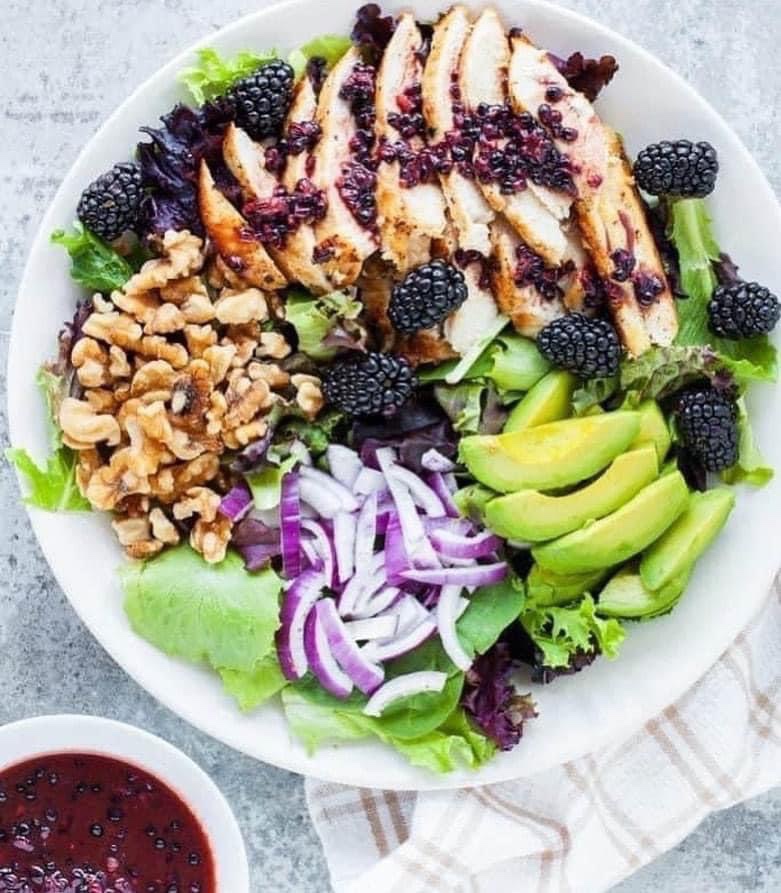 Bring on ALL the salads for Summer!! You will LOVE this one!
Blackberry Balsamic Chicken Salad
INGREDIENTS:
SALAD
-1/2 pound chicken breasts
-6 cups spring mix lettuce
-1 cup fresh blackberries
-1 avocado, sliced
-1/4 cup red onion, sliced
-1/4 cup chopped walnuts
DRESSING
-1/2 cup blackberries
-2 teaspoons Dijon mustard
-2 tablespoons balsamic vinegar
-2 tablespoons extra virgin olive oil
-2 tablespoons honey
-1 teaspoon soy sauce
-Salt and pepper to taste
INSTRUCTIONS:
Sauté the chicken in a cast iron skillet over medium-high heat until fully cooked through. Tent with foil and let rest while preparing the rest of the salad.
Add the spring mix lettuce to a large bowl. Arrange the blackberries, avocado, red onion, and walnuts on top of the bed of lettuce. Set aside.
In a medium bowl, combine the dressing ingredients except for the salt and pepper. Use a fork to mash the blackberries to release the juices. Whisk to combine. Season with salt and pepper to taste.
Slice the cooked chicken and set over the salad. Drizzle with dressing. Serve immediately.