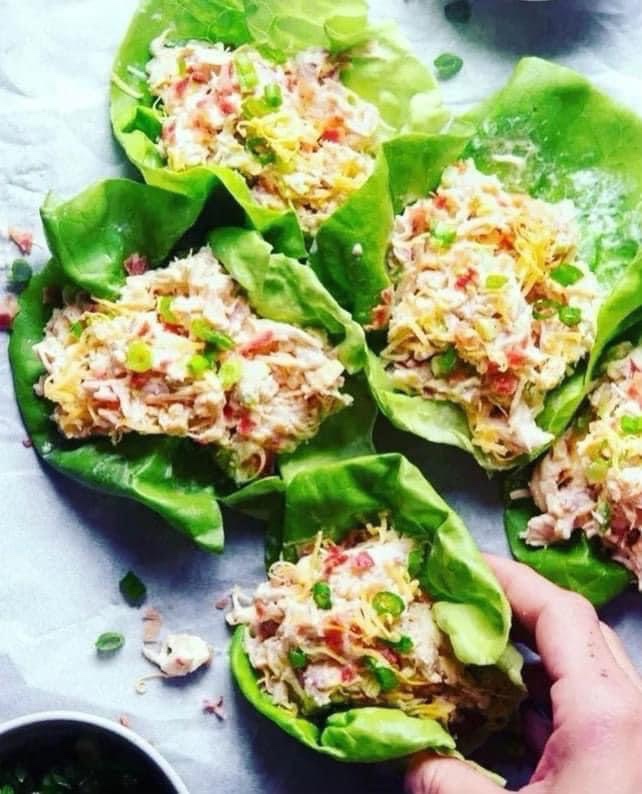 These little lettuce wraps are delicious and so easy to make! I use greek yogurt to make it healthier! Enjoy!
Rotisserie Chicken Salad Lettuce wraps
-Total Time: 20 minutes
-Servings: 6
-Calories: 464
INGREDIENTS:
-4 Cups Rotisserie Chicken shredded
-1/2 Cup Celery Sticks chopped
-1/2 Cup Green Onions chopped
-1/2 Cup Bacon crumbled, about 8 bacon slices
-1 Cup Sharp Cheddar Cheese shredded
-1/2 Cup Mayonnaise or sub for Greek yogurt
-1/2 Cup Ranch Dressing
-1/2 Teaspoon Kosher Salt
-1/4 Teaspoon Black Pepper
INSTRUCTIONS:
In a large bowl, combine shredded rotisserie chicken, chopped green onions, crumbled bacon, cheddar, and chopped celery.
In a small bowl, mix together mayonnaise or yogurt, ranch, salt, and black pepper.
3.Pour dressing over the salad ingredients and toss to combine.
Store in the fridge for at least 1 hour before serving, and enjoy!