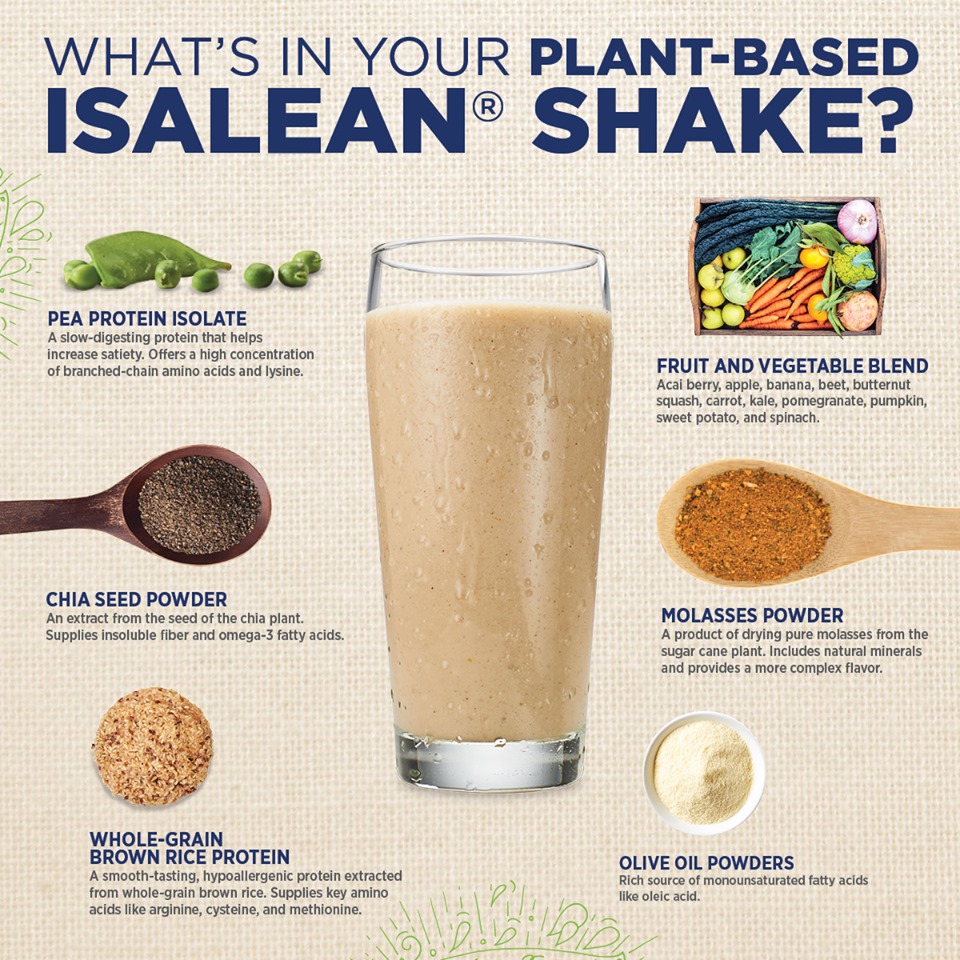 No ???? else to say it—plant-based and protein packed! ? Our Plant-based IsaLean Shakes are a nutrient-loaded meal replacement that deliver quality dairy-free, plant-based protein, energy-fueling carbohydrates, good fats, and filling fiber you need to maintain good health! And…If you love our plant-based shakes, we have some exciting news for you coming ???? soon! ?
Check out a breakdown of all the goodness that goes into these delicious shakes below! ?
? Whole-grain brown rice protein: The smooth-tasting hypoallergenic protein source extracted from whole-grain brown rice supplies key amino acids including arginine, cysteine, and methionine.
? Pea protein isolate: The protein concentrate from peas offers a high concentration of branched-chain amino acids and lysine for a complete amino acid profile. It's also a slow-digesting protein that helps increase satiety.
? Acai berry, apple, banana, beet, butternut squash, carrot, kale, pomegranate, pumpkin, sweet potato, and spinach
? Evaporated cane juice (cane sugar): A natural source of sugar from the sugar cane plant.
? Molasses powder: A product of drying pure molasses from the sugar cane plant that includes natural minerals and a more complex flavor.
? Monk fruit extract: The extract of fruit from the monk tree provides sweetness with fewer calories and helps to decrease the total amount of sugar needed.
? Whole-grain rice milk powder: Modified rice flour supplying complex carbohydrates that allows for the replacement of milk in helping to give the product a creamy texture.
? Sunflower oil powder: The main source of fat in dairy-free IsaLean Shakes because of its naturally high composition of monounsaturated and polyunsaturated fats including linoleic (omega-6) and alpha-linolenic acid (omega-3).
? Olive oil powder: Rich source of monounsaturated fatty acids, specifically oleic acid.
? Medium-chain triglycerides (MCTs): Extracted from coconut oil, it's a source of fat that is more readily absorbed and digested because of its relatively smaller chain length than other saturated fats.
? Isomaltooligosaccharide powder: A natural digestion-resistant starch that acts as a prebiotic soluble fiber, supporting the growth of beneficial bacteria.
Chia seed powder: An extract from the seed of the chia plant that supplies insoluble fiber and also happens to contain omega-3 fatty acids.
? Flax seed powder: A quality source of insoluble fiber that also happens to supply alpha-linolenic acid, an omega-3 fatty acid.
? Xanthan gum: A natural gum that acts as a soluble fiber and is used as a thickener in the IsaLean Shake Dairy-Free.