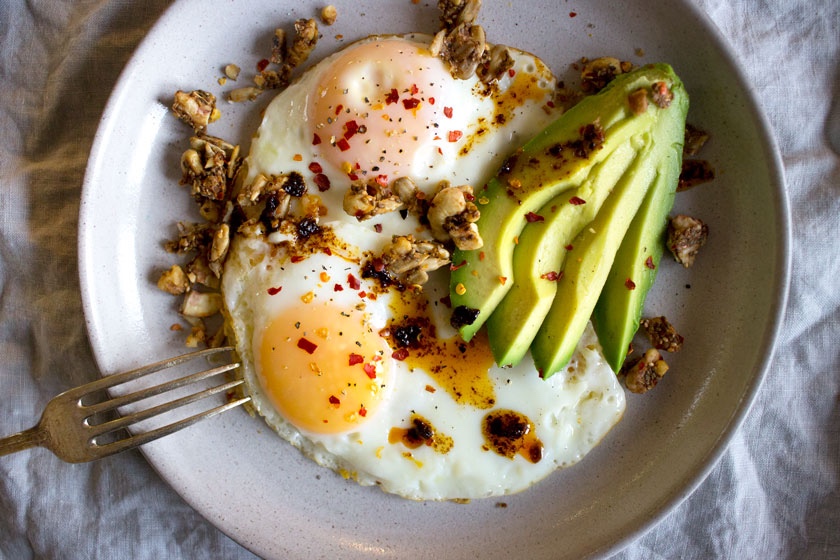 I love the ease of this high protein breakfast, as all-in-all it takes about 5 minutes to make, is high in protein and healthy fats, and just keeps me feeling satisfied until lunch.
If you're extra pressed for time, you can always make it in the morning and pack it in a tupperware to have at work. Chances are the eggs will probably still be warm when you eat it!
Ingredients
1 tablespoon ghee or butter
2 eggs
1 tablespoon olive oil
1 garlic clove, minced
¼ – ½ teaspoon chilli paste, depending on desired spiciness
½ avocado, flesh scooped out
2 tablespoons Sriracha granola*
Sprinkling or salt & pepper
Instructions:
?Place a frying pan on medium-high heat and melt your ghee or butter.
?Crack in your eggs, being careful not to break the yolks. Sprinkle over some salt and pepper, and place a lid or plate over the pan and reduce the heat to medium.
?Cook for about 2 minutes, until the whites are set but the yolks are still runny.
?Plate up with the avocado and sprinkle over the savoury sriracha granola clusters.
?Mix together the olive oil, garlic, and chilli paste and drizzle over, then tuck in and enjoy!