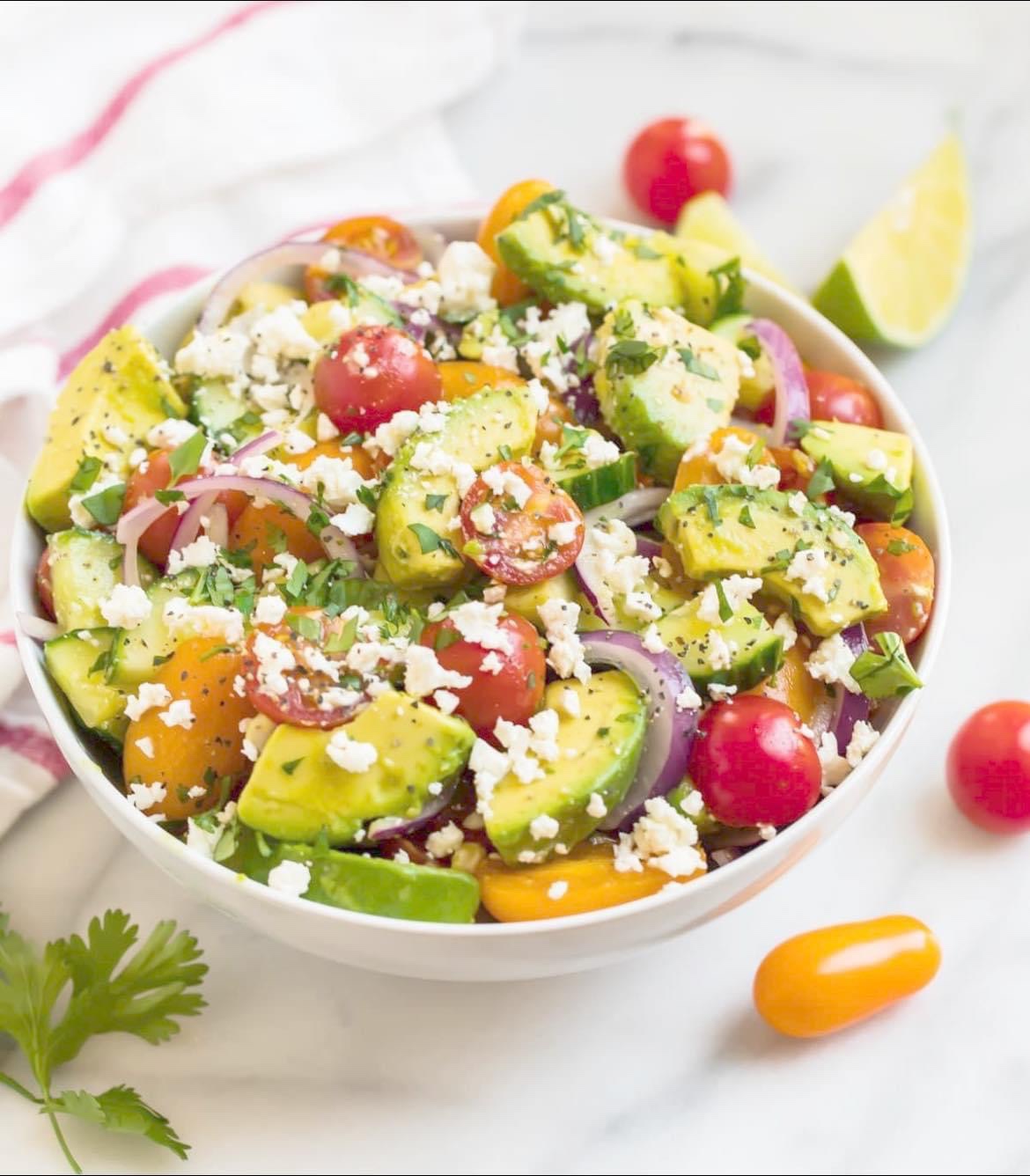 Nothing says summer to me as much as this easy & healthy 𝐂𝐮𝐜𝐮𝐦𝐛𝐞𝐫 𝐓𝐨𝐦𝐚𝐭𝐨 𝐀𝐯𝐨𝐜𝐚𝐝𝐨 𝐒𝐚𝐥𝐚𝐝 🥑🤍
I𝐧𝐠𝐫𝐞𝐝𝐢𝐞𝐧𝐭𝐬:
CUCUMBER TOMATO AVOCADO SALAD
½ small red onion – thinly sliced
1 large English cucumber – quartered lengthwise & sliced
1 pint halved cherry tomatoes – about 2 cups
2 medium avocados – peeled, pitted & diced
⅓ cup crumbled feta cheese – divided
¼ cup chopped fresh cilantro (or dill)
FOR THE DRESSING:
3 tablespoons fresh lime juice – from about 2 small limes
1 tablespoon extra-virgin olive oil
2 teaspoons honey
2 cloves minced garlic (about 1 teaspoon)
½ teaspoon kosher salt
½ teaspoon black pepper
Directions:
Place the sliced red onions in a small bowl & cover them with cold water (this helps remove some of the onions' harsh bite).
In a small bowl or large measuring cup, whisk together the dressing ingredients: Lime juice, olive oil, honey, garlic, salt, & pepper.
In a very large bowl, place the cucumbers, tomatoes, avocado, half of the feta, & cilantro. Drain the red onion, then add it to the bowl. Pour the dressing over the top, then stir very gently to combine. Sprinkle the remaining feta over the top. Enjoy immediately or cover the bowl with plastic wrap & refrigerate for up to 4 hours. Give the mixture a gentle stir just before serving.
𝐍𝐨𝐭𝐞:
Store leftovers in the refrigerator for up to 1 day. The avocado will brown slightly & the vegetables will become more liquidy, but the salad will still taste delicious.