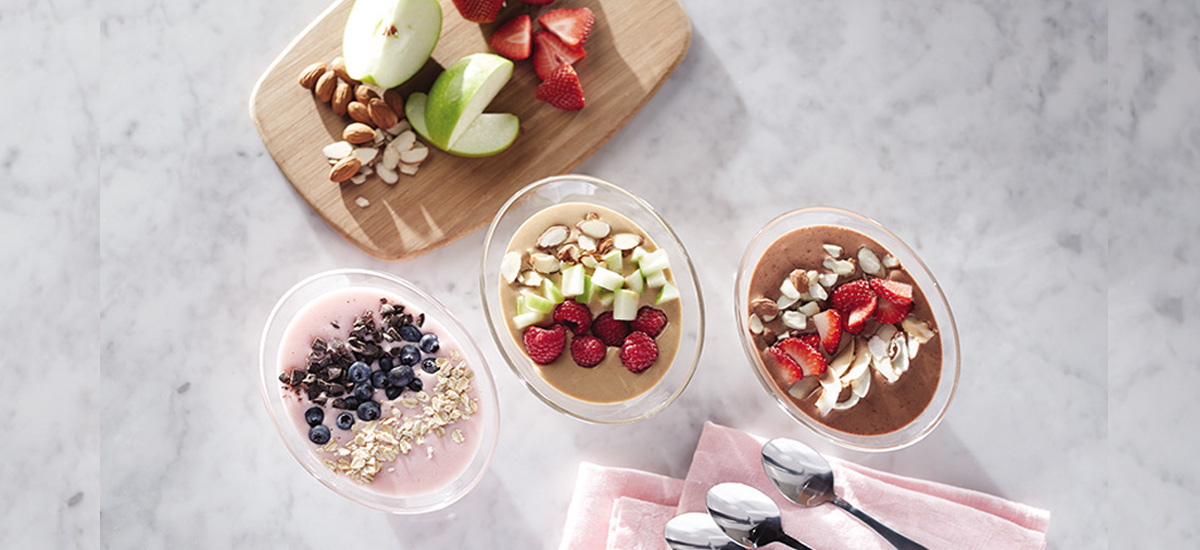 Super Smoothie Bowl
There is a popular health food craze going around, and it's called smoothie bowls! Why drink your smoothie in a boring cup when you can pour it into a bowl and decorate it all pretty! From bee pollen to spirulina, there are all kinds of health foods that people add into their bowls to increase nutrition, color, flavor and texture.
The possibility of options and colors are endless with smoothie bowls, which is what makes this such a fun and exciting thing to create. Toss in your favorite fruits, nut butters, protein powders, and supplements, and load it up with any and all of the toppings you can dream up.
NUTRITIONALS PER SERVING: 297 Calories; 9g Fat; 31g Carbs; 11g Fiber; 12g Sugar; 25g Protein
Prep Time 5 mins | Total Time 5 mins | Servings: 1
Ingredients
2 scoops Vanilla Chai IsaLean™ Shake Dairy-Free
1/2 cup cold purified water
1/4 cup ice
1/4 cup fresh raspberries
1/4 cup chopped apple
1 tsp slice almonds, toasted
1/8 tsp ground cinnamon
Instructions
In a single-serve blender, add IsaLean™ Shake, water, and ice. Blend on high speed for 20 seconds.
Pour blended mixture into a serving bowl and top with raspberries, apple, almonds, and cinnamon.
Notes
You can make smoothie bowls with any IsaLean™ Shake prepared with 1/2 cup cold purified water and 1/4 cup ice.
For Chocolate Smoothie Bowl: Any chocolate IsaLean™ Shake, topped with 2 sliced strawberries, 1 teaspoon sliced almonds, and 1 tablespoon toasted unsweetened coconut.
For Strawberry Smoothie Bowl: Any strawberry IsaLean™ Shake, topped with 1 teaspoon cacao nibs, 7 blueberries, and 1 teaspoon rolled oats.
"I love eating my smoothie with a spoon, especially adding crunchy and fresh fruit toppings!"